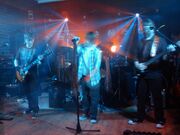 About The Band
Edit
All We Have are an unsigned rock band from leeds who specialise in punk rock covers of artists such as My Chemical Romance and Greenday. They also write their own material and the first album is to be recorded in summer 2010.
Chadders- Vocals, Rythm Guitar
Kyle- Lead Guitar
James- Bass Guitar
Baz- Percussion, Vocals
Influences
Edit
The band has many influences including My Chemical Romance, Greenday and Muse.
Discography
Edit
All We Have are currently working on their first album "My Affliction" So far thay have written five songs named My Affliction, The Other Side Of Life, The Further I Walk, Criminally Sane and Trial Seperation
Ad blocker interference detected!
Wikia is a free-to-use site that makes money from advertising. We have a modified experience for viewers using ad blockers

Wikia is not accessible if you've made further modifications. Remove the custom ad blocker rule(s) and the page will load as expected.