Biography
Edit
Baz is the percussionist of Punk band
All We Have
. He taught himself to play the drums at an early age and soon he was ready to take on the world as the drummer of All We Have.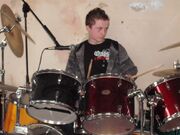 Playing Style
Edit
Most of Baz's drum beats are played in simple 4/4 time which represents the playing style of Greenday's Tre Cool. He also plays frequent drum solo's at concerts.
Influences
Edit
Baz's biggest influence is Slipknot's Joey Jordison. This is shown through his fast aggressive drum solo's and his behaviour on stage.
Drum Setup
Edit
Pearl Vision VBX
Full Birch Shell
10" Tom
12" Tom
14" Tom
16" Floor Tom
Pearl Snare
Zildjian ZXT
14" Solid Hi-Hats
16" Medium Thin Crash
18" Medium Thin Crash
20" Medium Ride
Ad blocker interference detected!
Wikia is a free-to-use site that makes money from advertising. We have a modified experience for viewers using ad blockers

Wikia is not accessible if you've made further modifications. Remove the custom ad blocker rule(s) and the page will load as expected.