Biography
Edit
James Kirk
was born in Leeds, and is the basist of punk band
All We Have
. He joined the band in early 2009 and has been a member ever since. James is the joker of the group and keeps everyone entertained with his shennanigans. He is also a heavy gamer and geek. But hey, where would the world be without them?!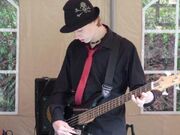 Playing Style
Edit
James' playing style heavily reflects his idols; Erik Chandler from Bowling For Soup and Mikey Way from My Chemical Romance. James' basslines often contain a single string riff of the chords used in the song. He also makes many attempts to use some of Kyle's moves on stage, but pulls them off a lot worse, which adds to humour at gigs.
Influence
Edit
James has many influences, mainly punk bands such as Bowling for Soup, Greenday and Blink 182. He also listens and is influenced by bassists in other groups such as Counting Crows, Panic! At The Disco, Queen, We The Kings and many, many more.
He is also influenced by bassist's he see's on youtube and friends, such as Victor Wooten.
Equipment
Edit
Instruments
Edit
Line 6 Spider Bass Guitar
Warwick Bass Guitar
Ad blocker interference detected!
Wikia is a free-to-use site that makes money from advertising. We have a modified experience for viewers using ad blockers

Wikia is not accessible if you've made further modifications. Remove the custom ad blocker rule(s) and the page will load as expected.