Biography
Edit
Jonny Chadwick (Chadders) is the lead singer and Rythm Guitarist of punk band
All We Have
He was born in Yorkshire. He enjoys playing video games and writing songs.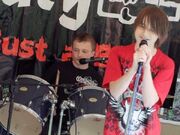 Jonny's style is very similar to Blink 182, Bowling for Soup and other 'skater' bands He writes short straight to the point punk songs with no questions asked. His guitar playing is just like his lyrics, A simple bunch of 3 chords will provide him with infinite possibility.
Influence
Edit
Jonny's influences include bands such as Fall Out Boy and The Killers. However he does like more techno bands such as Owl City
Equipment
Edit
Instruments
Edit
Fender Stratocaster (Red)
Super Cardoid Microphone
Ad blocker interference detected!
Wikia is a free-to-use site that makes money from advertising. We have a modified experience for viewers using ad blockers

Wikia is not accessible if you've made further modifications. Remove the custom ad blocker rule(s) and the page will load as expected.