'Monster' The Automatic's last single may have been rooted at Number Five in the charts for two weeks in a row and their last gig - homecoming at Cowbridge, South Wales' leisure centre - may have been a riotous affair but, you sense, their hometown may not be that proud of their lads. "I think we made page five of the local paper," says singer and bassist Rob Hawkins. "Cowbridge exists in its own little world. There's nothing wrong with it but it's a very sheltered and small place. I think that's why there's a bit of a theme of escape in our music." It was from there that The Automatic sprung, surely to take over this summer's airwaves. And while some may think they've appeared overnight, this has been coming for a while. Hawkins met guitarist James Frost when he was just four years old, hooking up with drummer Iwan Griffiths when they were 12. "And basically we started playing together," says Hawkins. "Since we've been interested in music, we've been making it." Keyboardist Alex Pennie joined a few tears later and gave the band their jittery, jerky style. It's a sound drawn from a vast panorama of influences, untouched by scene rules. "That's because there was no scene here. We were basically it" says Hawkins. "We didn't get caught up in one sound. We listened to At The Drive-In, Refused, Million Dead but also to poppier stuff too. Everyone else around here just wanted to be like Funeral For A Friend." It's led to an individual streak a mile wide, one that provides instant choruses, chart friendliness and a gonzo live show thanks to a love of songs. Expect them to be inescapable by the end of summer. -Kerrang!
We Recommend:
Band Members
Albums: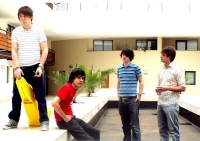 Ad blocker interference detected!
Wikia is a free-to-use site that makes money from advertising. We have a modified experience for viewers using ad blockers

Wikia is not accessible if you've made further modifications. Remove the custom ad blocker rule(s) and the page will load as expected.